Newcastle's cutting-edge organisation Attaya Projects has been chosen for the 2015 Hannah Directory.
The Hannah Directory, now in its third year, highlights people and organisations doing great things in the north of England.
Attaya Projects has been chosen to represent Newcastle upon Tyne. Attaya Projects is a collaborative digital media arts practice that creates beautiful experiences for a variety of audiences through interactive art installations; and designs bespoke products for the creative industries and the public sector. Attaya also provides expert consulting in digital innovation and promotes local community empowerment through the creative use of open technology.
Each project is taken on by a tailored team of world-class experts. Their pool of collaborators is both local and international, as well as diverse and interdisciplinary: It is distributed across 4 continents, inclusive, and with expertise in areas such as community engagement, sound art, architecture, electronics, programming, video, photography, engineering, glass and textile.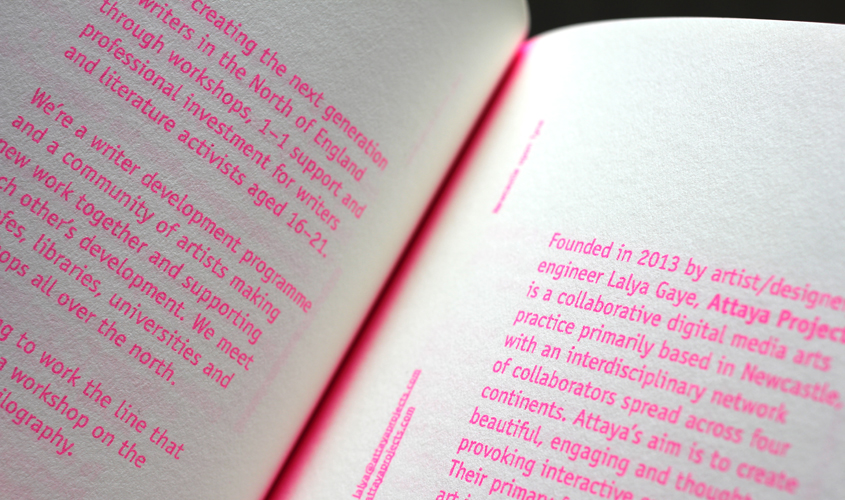 Attaya's clients include various festivals such as the Durham Brass Festival and Thinking Digital, as well as arts and community organisations, individual artists, schools, universities, and European Union programmes.
"I'm delighted that Attaya Projects are involved in Hannah Directory this year," says Andrew Wilson, who co-ordinates the Directory. "Attaya Projects is currently involved with an exciting cutting-edge collaboration with Canadian sound-artist Jessica Thompson from Toronto who is doing an art residency at ISIS Arts in Newcastle. The project explores sonic notation, borderlines, social changes in urban areas and big data."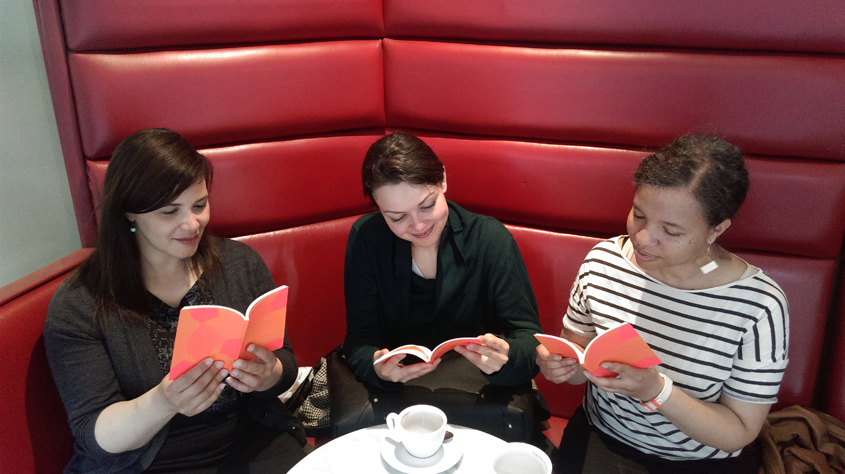 Urban mapping artists Jessica Thompson, Lalya Gaye and Jessica Dolby reading the Hannah Directory in a café in Newcastle
The 2015 Directory features more than fifty people and organisations in Barrow-in-Furness, Calder Valley, Huddersfield, Halifax, Hull, Leeds, Liverpool, Manchester, North Tyneside, Ossett, Otley, Preston, Salford, Sheffield, Stockport, Wakefield, York as well as Newcastle upon Tyne.
It includes fun, fascinating and innovative activities in fields including the arts, music, business and social organisation, and celebrates the possibility of cooperation between people and places in England's north for the common good.
Each organisation contributing to the 2015 Hannah Directory is having a small celebration to mark the launch. Attaya Projects will contribute with an open studio afternoon and as one of Newcastle's pick-up location for the Directory.
"It's great to be part of this year's Directory," said Lalya Gaye of Attaya Projects. "We think that the North of England is an exciting region to work and live in. The way that the Directory celebrates this and creates connections between people who love this region is brilliant and we're very happy to be part of it."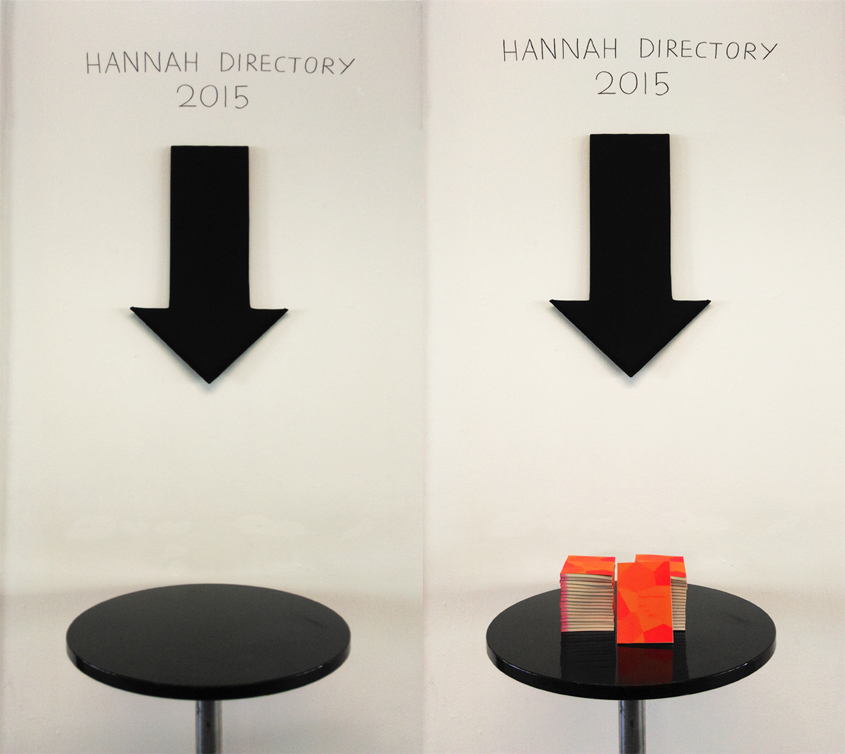 Notes
Hannah Directory is named after an inspirational figure from the north of England, Hannah Mitchell (1872–1956), a suffragette and rebel who tried to create 'beauty in civic life' in her work on public libraries, parks and gardens.
For more information or comment on Hannah Directory, contact directory organiser Andrew Wilson on andrew@foldup.org.
Website: hannahfestival.com
Twitter: @hannahfestival
Facebook: Hannah festival
Lalya /