Victoria is one of the Attaya Projects collaborators who will be showing some of their work at our showcase at B&D Studios for the Northern Design Festival. She is a visual artist who weaves participation, code, body and object. In her studio, she oscillates among her favourites: programming, physical computing and making handmade (often soft!) objects. She is also pursuing a PhD at Sunderland University as part of the CRUMB group (Curatorial Research for Upstart Media Bliss).
Two of her pieces will be on display at the showcase, from 10th-14th October:
Witch Pricker (2013) developed from a story from Newcastle's past when, in 1649, 30 women were brought forward and tested by a witch pricking expert. Those who bled when pricked with a pin were human, and therefore not witches, those who didn't were considered guilty and executed on the town moor. Because the Witch Pricker was paid by the witch he found, 27 of the 30 were found guilty. Here, the artist uses Arduino, C++ code and soft-sculpted strawberry-witches to allow you, the visitor, to take the role of the witch pricker. See how many witches you discover!
Electronic Ginseng (2012) are sculptural fabric ginseng with embroidered leaves, stems, and roots. The plants are still until the leaves are touched, when the berries' LEDs light to show their magical properties. Wild ginseng challenges an east toward west production and trade model. The plant can be elusive and is thought to have magical properties that help it to evade discovery and harvest. This project nods at ginseng's tricky biological, mythological and economic lore. Lilypad Arduino and electronics mediate the interaction.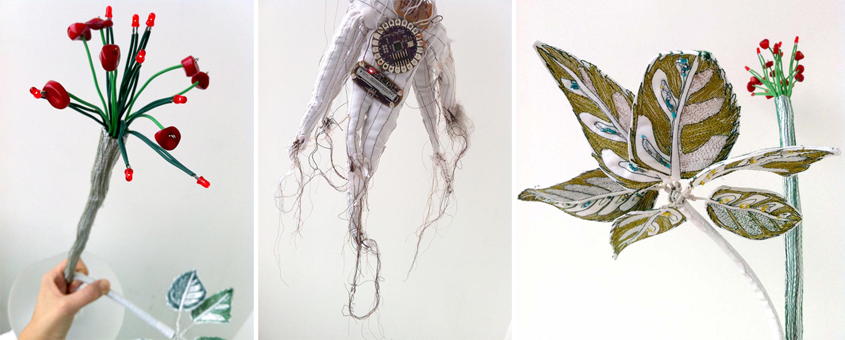 Victoria will be around to talk about her work and creative process using code and physical computing, at the opening on Thursday 10th from 17.30, on Friday 11th from 16.00 to 19.00, and on Saturday 12th from 11.00 to 17.00.
Find out more about her work at www.victoriabradbury.com
Time: 10th-14th October
Location: B&D Studios, 3rd Floor, Commercial Union House, Pilgrim Street, NE1 6QE Newcastle upon Tyne
Lalya /